Since Joshua Goodman blew the lid off OFAC-busting shenanigans that were taking place between Venezuela, Curaçao and a bunch of shell companies in Panama, Luis Giusti's international standing has been in free fall. To recap: "Colon (IMO 9503574) lifted 600,000 barrels of fuel oil from PDVSA's Amuay and delivered to Isla refinery on September 28th 2022. Panama-registered K-nob Trading S.A. consigned the load to Giusti's Caribbean Petroleum Refinery (CPR), which produced a re-exporting "Certificate of Origin", signed by Managing Director Frank Verhoets on October 29th. But then another ghost, Panama-registered United Petroleo Corp., lifted the cargo brought aboard Colon for onward trade."
K-nob has a former PDV Marina official (Argenis Gonzalez Lopez) as director. United Petroleo is one of PDVSA's prefered partners currently and it does hundreds of millions worth of crude trade with it. CPR had some kind of informal agreement with Refineria di Kòrsou (RdK) to kickstart and operate the refinery. Eventually CPR excused its involvement claiming certificate of origin was fake, but did admit to have participated in deal involving United Petroleo and others. 
In CPR's attempt to do the deal with RdK there was a Japanese financial company, called Bar Trading Japan, owned by conman Samuel Barbosa da Cunha, involved previously in a swindle that could have cost Angola $500 million. Tellingly, Venezuelan criminal Ricardo Fernandez Barrueco is an associate of Barbosa in Bar Trading. Further investigations, done by Netherlands Forensic Investigation Agency (NFO) and by FTI Consulting, demonstrated that what Barbosa tried on Curaçao was exactly the same method employed in Angola: forging bank (HSBC) documents, to back CPR's bid.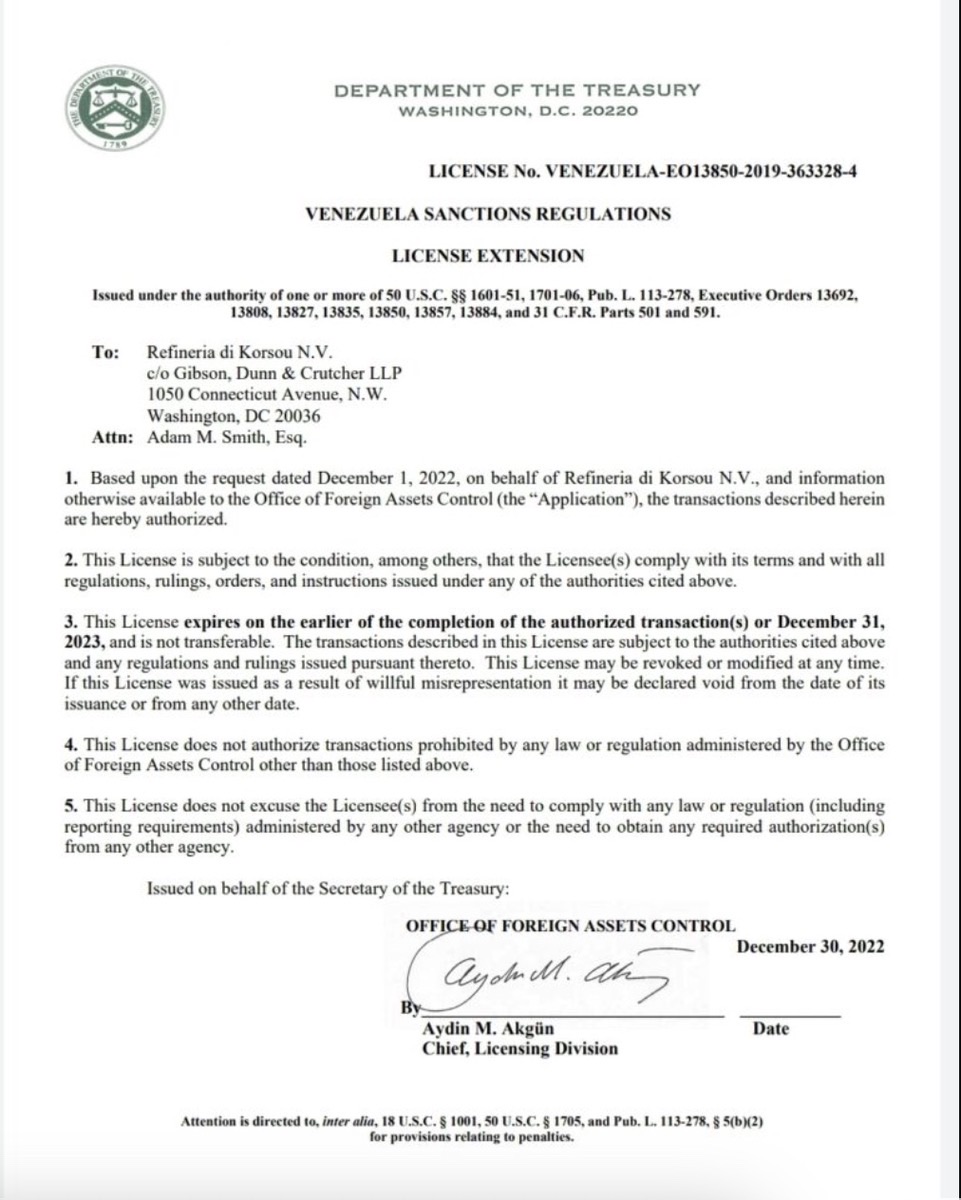 Following the scandal above, RdK's license from Treasury was made public. Said license is valid from December 1 2022 to December 31 2023, which means fuel oil received by CPR in late September 2022 was done in clear contravention to Treasury sanctions. 
On February 15 RdK finally informed that "conversations regarding the management and operations of the refinery and Bullenbai" with CPR are cancelled, and that CPR was "no longer considered a preferred bidder."
Well known back in the 90ies for being PDVSA's CEO, Giusti was a respected figure in oil circles. Contrast the all-powerful oilman of old with the figure that appeared in a press conference in Curaçao to defend CPR's position. Giusti was not even able to string a few coherent sentences together, and chose to leave most of the talking to Raul Socorro, his business partner. Socorro made some spectacular claims on behalf of CPR, one in particular of having "partnerships with the best universities around the world" to hire and train future staff, or that CPR beat 53 other bidders. CPR's association with the likes of Barbosa, PDVSA or Fernandez Barrueco weren't even mentioned, much less clarifications about forged financial documents. According to Socorro, its financial backer came out clean from due diligence processes. 
Socorro is completely out of his depth when it comes to energy matters and comes across as a two bit car salesman desperately trying a hard sell. Considering CPR's lack of substance and sound finances it is a wonder how any authority, in Curaçao or anywhere else, could have taken these people seriously.