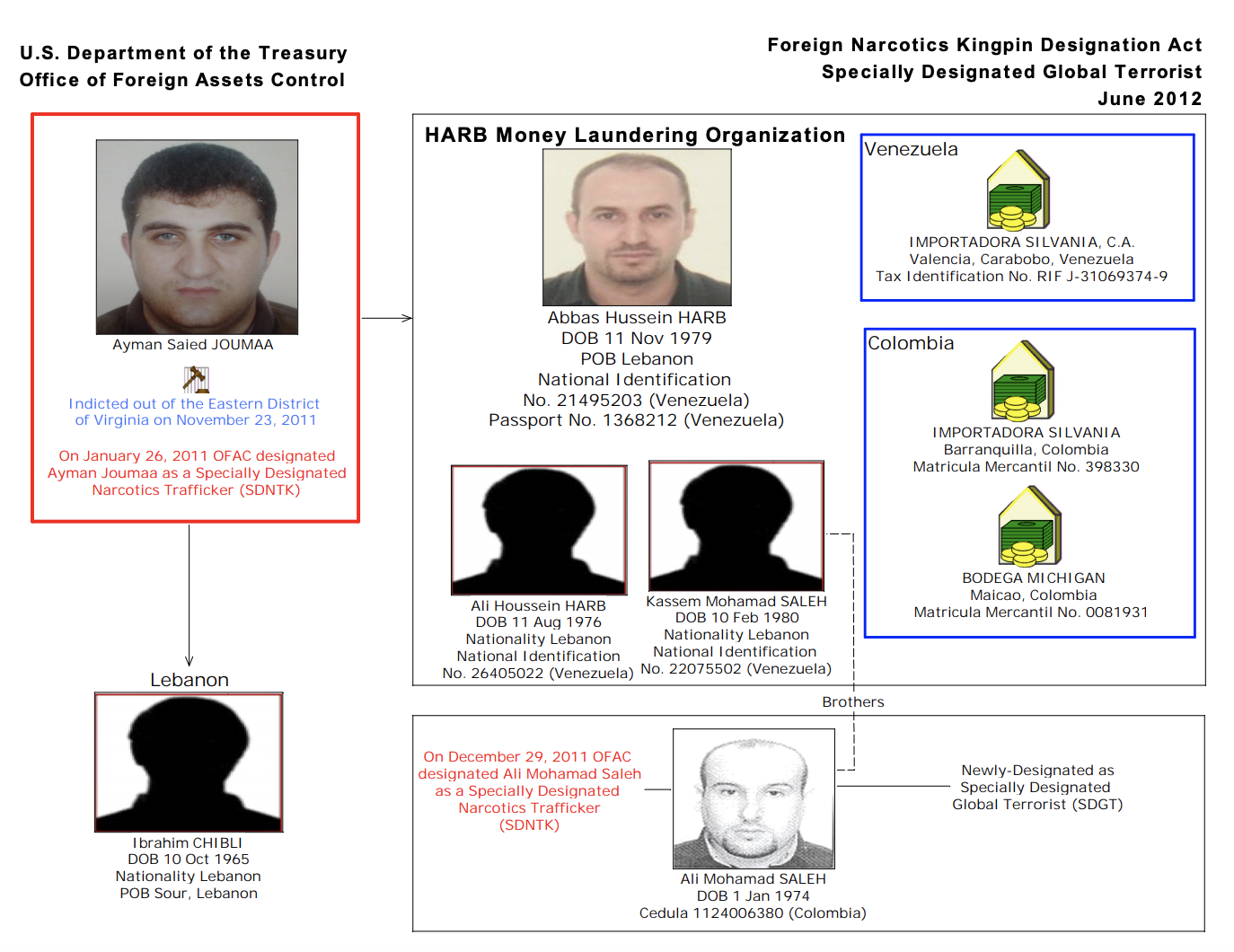 Just how internationally wanted terrorists are getting Venezuelan IDs? The question is relevant, so please bear with me.
Venezuela has long been a net recipient of terrorists. Back in the late 80ies, late President Carlos Andres Perez agreed with his Spanish counterpart (Felipe Gonzalez) to receive about 30 members of the Basque terrorist group ETA. When Chavez came to power, ETA terrorists had already been in the country for a few years, always under surveillance. But the caudillo would change their status, from sort of prosecuted, monitored pariahs, to officials of his regime. Case in point Arturo Cubillas, whose wife, Goizeder Odriozola is one of Elias Jaua's most trusted aides, and who was appointed by the Chavez regime as chief of security of Venezuela's Land Institute. Spain's repeated request to have these terrorists extradited, so that they could face justice for their heinous crimes, has been met with absolute derision from Venezuela.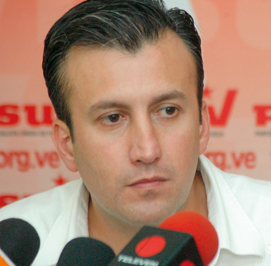 Hugo Chavez's soft spot for terrorists wasn't reserved to Basques only. For there's extensive documentation proving Chavez's association, and support to Colombia's narco-terrorists from FARC. With regards to Middle Eastern terrorists there's been much in the way of talk but little proof. It has been said that Margarita Island in Venezuela is a Hezbollah hotbed. Others have claimed, without much evidence, that Venezuela has "sent shipments" of Uranium to Iran. However, the U.S. Department of the Treasury announced in June 2012 that it was targetting a money laundering network related to Hezbollah and its operations in Colombia and Venezuela. And here's where things get interesting.
Tareck Zaidan El Aissami Maddah (DOB 12 Nov. 1974, ID. 12.354.211) is the current chavista Governor of Aragua state in Venezuela. He is one of five children of Zaidan Amin El Aissami El Musfi and May Maddah de El Aissami, a Muslim couple of Lebanese origin. El Aissami (TEAM) has had a meteoric rise within chavismo, owing to his excellent relations with Adan Chavez, brother and mentor of the late Hugo, whom he met while reading law in Universidad de los Andes. Despite his young age, El Aissami has been appointed to sensitive roles, such as Head of ONIDEX: Venezuela's equivalent to the Home Office, responsible for identification and immigration.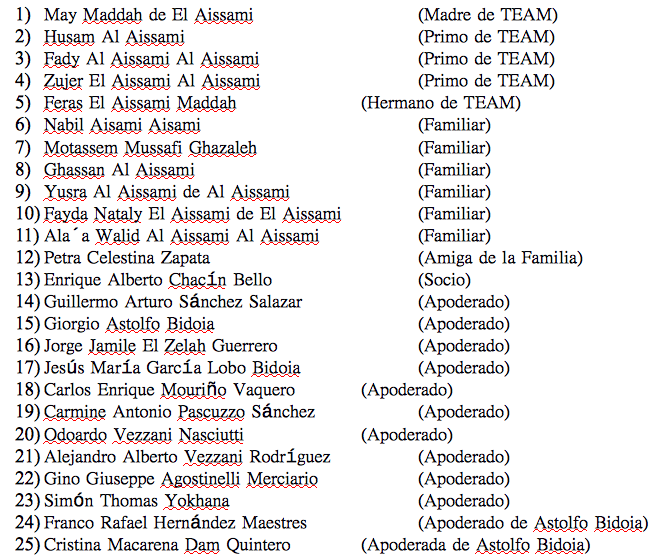 El Aissami has used his powerful position to set up a multilayered and vast network of shell companies run by proxies. There are three identifiable groups within El Aissami's structure. The first group (picture above) is led by his mother, and is formed by close relatives and proxies (25 people). This group controls the following Venezuelan companies:
- 1. INVERSIONES SALMAS, C.A.
- 2. INVERSIONES OBAIDA, C.A.
- 3. DISTRIBUIDORA VENSIR, C.A.
- 4. ALMACEN UNION, C.A.
- 5. INVERSIONES EL CARRIZAL, C.A
- 6. SOCIEDAD MERCANTIL PIAL, C.A.
- 7. SOCIEDAD MERCANTIL UNIFARMACIA C.A.
- 8. SOCIEDAD MERCANTIL INVERSIONES EL TROLE  C.A.
- 9. SOCIEDAD MERCANTIL INVERSORA GUADALUPE C.A.
- 10. OFICINAS DE VENEZUELA (OFIVEN) C.A.
- 11. EMPRESAS ZUVIC C.A.
- 12. MILENIUM INMUEBLES + INVERSIONES  C.A
- 13. ESCALANTE MOTORS MERIDA C.A.
- 14. CENTRO AMBULATORIO Y ESTETICO MILENIUM  C.A.
- 15. INVERSIONES GENOS, C.A.
- 16. COMERCIALIZADORA GENOS, C.A.
- 17. T & S DISEÑOS Y CONSTRUCCIONES, C.A.
- 18. VARIEDADES LUXOR, C.A.
- 19. F&S COMPUTER GROUP C.A.
- 20. DISTRIBUIDORA GIOCONDA C.A.
- 21. SEBASTIAN C.A.
- 22. ZAP C.A.
This group has other assets, such as real estate, vehicles and cash, sitting in Banco Provincial, Banco Mercantil, Banco de Venezuela, BANESCO, HSBC (Panama), Bank of America (Miami), Commercebank (Miami).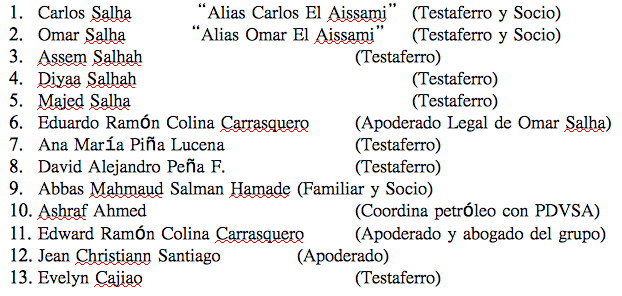 The second group is formed by 13 people (picture above). This group in turn controls the following companies (Venezuelan unless otherwise stated):
- 1. SUPER TODO, C.A.
- 2. EL DRAGON 2005, C.A.
- 3. LA BOMBA, C.A.
- 4. CORPORACION LA BOMBA DE VENEZUELA, C.A.
- 5. MOSTAZA, C.A.
- 6. MOSTAZA SHOP, C.A. 
- 7. LUXOR IMPORT, C.A. (Panama)
- 8. CORPORACION EL DRAGON 2012, C.A.
- 9. PURA GANGA, C.A.
- 10. PACIFIC PETROLEUM INVESTMENT CORP. (California - USA)
- 11. CONSTRUCTORA PLATINIUM CENTER, C.A.
- 12. CENTRO COMERCIAL PLATINIUM CENTER, C.A.
The second group has assets, vehicles and cash, scattered in Regionsbank (Miami), Banco Provincial, BANESCO, Corpbanca, HSBC (Panama), Wells Fargo (California), Banco del Orinoco (Curaçao), Banco General (Panama), Multicredit Bank (Panama), Blom Bank (Beirut).
The third group is a subgroup of the second, and has no direct connections to the first, or indeed to El Aissami. It is formed by:
- 1. Francisco Lautaro Vélez Quispe
- 2. Nelson José Moreno Araujo
- 3. Juan Manuel Aguirre Chuecos
- 4. Blas Lorenzo Román Torres
This subgroup or cell control the following Venezuelan companies:
- 1. CORPORACION BRICKWALL, C.A.
- 2. SUPAC INTERNACIONAL, C.A.
- 3. INVERSIONES GALILEO, C.A.
- 4. FRESSCO MERIDA, C.A.
It's got some assets, while cash is kept in Banco Bicentenario Banco Universal, Banco Occidental de Descuento (both in Venezuela and Panama), Regionsbank (Miami), Bank of St Lucia Intl., BANESCO, Banco Mercantil, Banco Provincial. This group makes periodic cash deposits into four different bank accounts controlled in turn by another proxy (Jaled El Eysami), who then, in an attempt to cover origin of funds, wires it out of the country via stockbrokers (Equitas and others).
The most interesting aspect of El Aissami's operation however, is not money laundering by his proxies, but rather abuse of his station at ONIDEX to give Venezuelan IDs to a number of internationally wanted criminals / terrorists. The news from OFAC linked above reveal that Hezbollah operatives in South America got Venezuelan IDs under El Aissami's "watch". While in charge, ONIDEX created new identities for a number of people. Intelligence reports sent to us claim that as many as 173 individuals believed to be collaborating with terrorism, drug trafficking and money laundering were either naturalised, or got Venezuelan visas and IDs using fake names. Abbas Hussein HARB, for instance, identified by OFAC as part of a money laundering network related to Hezbollah and Ayman Saied JOUMAA, has two Venezuelan IDs (21495203 and 26405022). As of this writing both are valid. Kassem Mohamad SALEH, also designated as Hezbollah collaborator, has a valid Venezuelan ID (22075502), as shown in electoral records. 
Granting Venezuelan citizenship to terrorists, as done by El Aissami, is not an isolated event. In 2004, in the space of one month, the Hugo Chavez regime naturalised Arturo Cubillas, Maria Asuncion Arana Altuna (ETA) and Rodrigo Granda (FARC).
El Aissami also gave access to Venezuela's identity databases to ALBET (a Cuban front controlled by the Castros), which ultimately controls development and implementation of new electronic IDs via subcontracting to Gemalto and Bundesdruckerei among others.