Submitted by

Alek Boyd

on Sat, 21/09/2013 - 08:01
Spanish
A propósito de la grave crisis en el sector eléctrico en Venezuela, publico a continuación parte de una entrevista con el experto José Aguilar, hecha el 21 de agosto de 2013.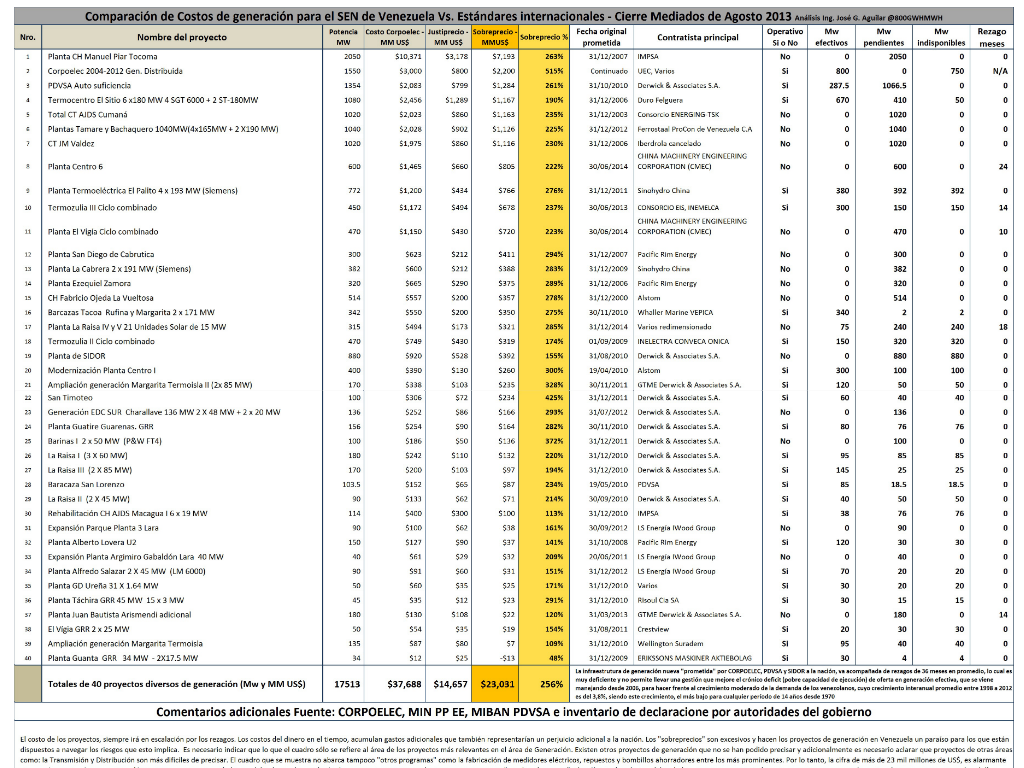 "… Déjame hablarte del tema de los argentinos, que es un guiso más grande. Se ha escrito sobre esto, yo he escrito algo sobre esto, yo publico, este jueves no me toca, es decir mañana no me toca, pero si me toca el jueves que viene, cada dos semanas, yo tengo una columna de opinión sobre los temas eléctricos, que tengo ya casi dos años haciéndolo, en Maracaibo, en un periódico que se llama La Verdad. En ese periódico yo he denunciado. Una frase -hablando con Victor [Poleo], sacamos el caso de Tocoma, los manoseos de esta gente de IMPSA, están alrededor de, lo llame como que, en Venezuela hubo un escándalo en la 4ta República que cuando sonó aparecía en los medios mañana, tarde y noche, y era el de unas fragatas misilísticas. Como las fragatas son unos navíos, yo dije que el escándalo de las fragatas eran unas curiaras comparando con el escándalo de Tocoma. Yo he escrito sobre eso, es decir, los argentinos en Venezuela, en estos momentos, tienen sus tentáculos en las siguientes áreas: Tocoma es el que lleva la bandera, el que lleva la batuta, es un proyecto de tal vez 3 mil ciento y pico millones de dólares máximo, se alegó, ok, se alegó de que había un problema localizado para tratar, que requería dinero adicional, en la fundación para poner la presa, y entonces eso representaba x millones de dólares. El estimado original eran 2.400 millones de dólares. En los documentos que yo analice aparecían obra civil, casa de máquinas, equipo electromecánico, era como 5.900 millones de dólares, y habían como 200 y pico de millones de dólares para hacer la parte de transmisión asociada regional, que eso era para llevar eso hasta una sub-estación en Puerto Ordaz y tener el patio y todo. Eran como dos ítems grandes que estaban en el proyecto y eso daba 6.200 millones de dólares, es decir que escaló y fue escalando en el tiempo. Después de eso, de la noche a la mañana, salió el payaso de Navarro [ex-Ministro de Energía Eléctrica en Venezuela] diciendo que requería otra gran cantidad de dinero, y de los seis doscientos (6.200) totales la vaina subió casi a siete setecientos (7.700) y con otras averiguaciones de otros ítems la vaina paso los 8.000 millones de dólares. Este año Chacón [actual Ministro de Energía Eléctrica en Venezuela] dijo que necesitaba 2.000 millones de dólares más, para poder terminar esa vaina y estaba buscando financiamiento. Entonces tienes una Tocoma, de 2.100, eh, 2.160 megavatios, que será su potencia instalada, que está rondando potencialmente por encima de los 10.300 millones de dólares. Guri 1 y 2, con los sistemas de transmisión asociados más o menos costaron eso, es decir, estamos hablando de mas de 2.000 kilómetros, faltaría hacer otras comparaciones de rigor financiero, indexar los dólares, etc., para decir bueno tal ahí, es que es obvio que, coño, que tu no puedes tener una obra que es un cuarto de la capacidad, o un quinto de la capacidad de Guri 1 y 2, y que ya te esté costando mas de dos, y casi tres a cuatro veces lo que te costó Guri, entonces allí tu tienes eso."
P: Ud puede mandarme esos links sobre ese tema que ha escrito? Si los tiene por ahí a la mano?
"Bueno tendría que rastrearlo. Por el instant message que esta aquí que estamos hablando, déjame ver una vaina, a ver déjame entrar a un sitio, nosotros en el grupo Ricardo Zuloaga nos reunimos, nosotros tenemos un blog, que se llama, como te lo voy a colocar aqui en nuestra conversación, en el instant message, se llama www.lossinluzenlaprensa.com. Cuando tu haces click en ese blog, vas viendo una serie de artículos, entonces te voy a tratar de llevar a lo mas, hay unas etiquetas, en la parte derecha, en esas etiquetas aparece Jose Aguilar. Entonces tu haces click en Jose Aguilar y ahí te van a aparecer todos los artículos, entrevistas, escritos, por ejemplo fíjate, allí hay un "Incumplimiento deselectrizante", y ahí aparece el link, fíjate en el "Incumplimiento deselectrizante" que eso fue cuando 100 días, que no cumplió ni una sola meta el coño de madre."
P: si, si en Tal Cual no?
"No ese fue en La Verdad, en Maracaibo, después Jesse no pudo ni con los bombillos. Bueno, y allí están, o sea, esos cuadros, infografías, yo los he hecho, etc., entonces por allí viendo los previous entries, estarían el articulo aparecería, yo no me acuerdo como, allí están todos, tienen que ser como los que dicen previous entries por allí. Ahora bien, en qué más está metido IMPSA? IMPSA está metido como subcontratista en Guri 2. En un periódico de San Miguel de Tucumán Argentina, hace unos años cuando el difunto estaba vivo, cuestionaban la Kirchner de sus giras a Venezuela, y entonces ella ripostaba en los medios argentinos de todos los negocios que los Kirchner habían conseguido para la Argentina con Venezuela. Hay un articulo muy interesante, mira yo estaba en otra computadora en ese momento, es del año 2010, estoy seguro que es del año 2010, pero inclusive hay una expansión de Guri casa de máquinas 1, unidades 1 - 6 que existe un periódico en Argentina que dicen que ese contrato se lo van a dar a IMPSA. En ese contrato ya hay como un valor de unos 1.500 millones de dólares, entonces por ahí tienes 10 mil y pico de millones totales en el caso de Tocoma, parece que se van a meter en Guri, en Guri 1, en la expansión de la hidroeléctrica…"
P: y todo se lo dieron a IMPSA?
"O sea, no, huele, o hay la intención o el compromiso de asignárselo a IMPSA. Esa parte de la 1 a la 6 todavía no hay la buena pro, es mi entendido. Macagua 1, se lo han dado a IMPSA, allí deben haber otros 400 millones de dólares. Hay obras en Guri 2 de modernización que los contratistas que yo llamo de grandes ligas no han podido terminar esa vaina, por que no les han pagado, y entonces viene y dice IPMSA "Hello, I'm here", y entonces se meten en la vaina. Hay un proyecto para añadir compensación reactiva a la red troncal de transmisión, se dieron como 500 y pico de millones de dólares, yo he leído y algunos venezolanos hemos leído ese proyecto, ese proyecto no sirve, para hacerlo, o que pueda ser lo que técnicamente se quiere buscar con ello, a menos que tu construyas otra línea de 300 kilómetros mínimo, en 765 kilovatios entre dos sub-estaciones de Venezuela, y eso no está en los 500 millones de dólares. Bueno allí a la final irán otros 600 o 700 millones de dólares, a justiprecio, sabe dios cuánto va a costar con estos carajos. En los Andes, están contratados con una empresa brasileña para hacer el segundo desarrollo del Uribante- Caparo, pero tenemos entendimiento que está metiéndose IMPSA también, eso no lo podemos confirmar, como que es un rumor…"
P: y quién es la cabeza de IMPSA, quién es el negociante que le consigue todo?
"Mira hay un industrial, argentino, un empresario, que se llama Pescarmona es el nombre de él, que ha salido como uno de los empresarios latino-americanos del año en algún programa, de Industrias Metalúrgicas Pescarmona. Ellos tienen su sede en Mendoza, Argentina, y allí tu estas hablando no se si fue Univisión, la cadena hispana de televisión en Estados Unidos o Telemundo, tiene que haber sido una de las dos, o posiblemente CNN en español, tal vez me inclinaría por esta ultima que sacaron, o lo usaron como en el año 2012 para un reportaje de todo este tema de empresarios latino-americanos exitosos y toda esa vaina. Ellos están metidos 100%, tienen acaparada la energía eólica en Venezuela. Allí se dice que esa vaina es, que hay un Guri eólico entre comillas en la Guajira venezolana, que el país puede tener 10.000 megavatios de potencial eólico. Bueno, cuál es el peo de esa vaina? Yo no, eso es lo que ha dicho Ali Rodriguez Araque, en documentos como la memoria y cuenta, y esos son one-liners mediáticos que ellos usan, pero nosotros, la comunidad técnica, no ha visto un informe técnico que avale ese potencial, de todas maneras, no es que haya todo ese potencial, cuánto de ese potencial es realmente realizable económicamente? Es decir, nosotros nos vamos a tener que internar cuánto en el Golfo de Venezuela para poder sacar 10.000 megavatios? La energía eólica per se, sin ningún sobreprecio, es una de las más costosas en dólares por kilovatio instalado, me da temor pensar cuánto sería en manos de estos sinvergüenzas. Hay un factor que tu no tienes control, y los ingenieros lo describimos como la firmeza de esa generación, es decir, qué pasa cuando el viento no está? Eso es un factor que hay que tener en cuenta, entonces, qué es lo que sucede? Tu puedes gastar todo eso, cuál es la firmeza de nuestra Guajira eólica, 20%? 30%?"
P: Y este Sr Pescarmona es el que lidia directamente con los chavistas, o el manda a algún emisario, o el lidia a través de Julio de Vido, o cómo es la historia con este tipo?
"Allí tal vez el que te puede hablar mas de eso es Víctor Poleo, yo no te podría hablar, lo que si te puedo decir, y esto es algo que para mi es un, digamos, es un punto de honor pero no tengo como desarrollarlo, el tema todo esto IMPSA, todo este tema, de las líneas de transmisión, las incursiones diferentes eólicas, Guri 1, todo lo que tu quieras oficialmente donde esta metido Tocoma-IMPSA tiene Ali Rodríguez Araque escrito all over…"
Q: Usted escribe en inglés?
"Yes I write in English sometimes, I do, I do."
Q: Usted estaría dispuesto a escribir algo de éste Sr Pescarmona y de IMPSA, o si no de él, de IMPSA y de todos los guisos en los cuales IMPSA pareciera estar involucrado en inglés para yo publicarlo en INFODIO?
"Bueno podríamos verlo pero el tema esta que…"
Q: O Usted tiene algún temor de aparecer?
"No, yo no tengo ningún temor de aparecer, el tema está en que puede ser escrito como "it begs the question"…"
P: Claro si no tenemos documentos como para hacer afirmaciones o acusaciones pues uno siempre puede dejar la pregunta colgada en el aire, no?
"Si, eso pudiéramos hacer, entretenerlo, para mi, el tema es el tiempo, y dos que habría que hacer alguna que otra investigación sobre, yo desearía poder encontrar el articulo ese del periódico de San Miguel de Tucumán, por que esto es como se conectan los puntos, digamos para establecer reasonable doubt de que aquí hay un probable cause que amerita ir un poco mas allá."
P: ese fue el articulo donde salió publicado que el contrato de expansión del Guri le seria otorgado a IMPSA?
"Eso es correcto, o sea aparece como un titular, no aparecen los detalles, aparece no solamente eso sino todos los negocios en que ellos están, ese me llamo la atención por que obviamente tenia que ver con el tema eléctrico, pero era un shopping list, un laundry list pero kilometrico digamos, pero fíjate aquí el tema Ali Rodríguez Araque está saliendo very cheap, pero very cheap de todo esto. Cuando yo veo este tema de Derwick, ok, donde es posible, la tabla que tu tienes allí, los cuadros que yo te mande aparecen como 2.7 billones de dólares en lo que se llama Derwick que es conocido. Hay otros proyectos a lo mejor que no están conocidos en su totalidad de Derwick, tu hablas aquí que a lo mejor hay 3.000 millones, puede ser…"
P: bueno ahí yo estoy citándolos a Ustedes en El Nacional.
"Si, bueno, yo he contabilizado como 2,7 billones de dólares, vamos a suponer, ahora puede haber otro repele por ahí? Puede haber. Una de las cosas que no sabemos es, regresando a Ali Rodríguez Araque. Ali Rodríquez Araque es el que tiene estas conexiones con el sur, hoy está en UNASUR. Ali Rodríguez Araque es uno de los influyentes en la generación distribuida, las maquinitas diesel de triangulación cubana, tiene que ver con los bombillos ahorradores, tiene que ver con Tocoma, todo lo que sea IMPSA, de alguna forma más tarde o más temprano ha habido una cosa de su corrupción, el asesinato de la Orimulsión, como combustible térmico que le daba otra opción a Venezuela, su manejo y asignación de casi toda la expansión ésta termoeléctrica sin combustible, todo esto esta relacionado con Ali Rodríguez Araque, su pupilo Rafael Ramírez, es decir il Padrino de esto, para mi es Ali Rodríguez Araque. Ali Rodríguez Araque le deben haber mojado la mano, dios me perdone si estoy equivocado, su gente de Derwick y todo lo demás, es decir, tan escandaloso como es el tema Derwick, ok, Ali Rodríguez Araque gets away with murder almost scot free, nada se le pega a este carajo, y eso me parece en el esquema de las cosas algo injusto, considerando todo el daño que este caballero le ha hecho a la Venezuela en el siglo XXI, desprofesionalizando PDVSA, el estuvo a cargo de la electricidad, el puso a Ramírez, el tuvo…"
P: Trajo de la mano a Mommer también, no?
"A Mommer si, el puso después a la gente ésta, la expansión ésta, ese fue él. Cuando ocurre El Niño él es el ministro, él tiene allí dos años férreos donde todos los contratos y todas esas cosas se asignaron, inclusive la planta ahora del Vigía. Yo en estos días saque, bueno he sacado, he preparado, no ha salido a la vista, para que tengas una idea de la corrupción que hay en Venezuela, déjame ver si te busco el cuadro, por que yo analizo temas y saco un cuadro y después me olvido de esa vaina si no me vuelvo loco p'al coño, este ya va, un momentico, déjame ver aquí. El gobierno ha estado cantando a los cuatro vientos como un gran logro la planta de El Vigía, en el estado Mérida. Ese es un tremendo lugar para hacer una planta eléctrica, por transmisión, como dicen, allí puedes poner todos los megavatios que tu quieras e inmediatamente el sistema va a reaccionar positivamente, que te puedo decir yo, algo así como que tu tengas una persona que es anémica y le das una transfusión e inmediatamente ves como recupera, ahora cuánto le va a durar that's anyone's guess. Espérate aquí un momentico, tu tienes una nota aquí de Banamerica…"
P: aquí sale algo de IMPSA reacondicionará turbinas de Guri, a ver si es eso que Usted…
"Fíjate 27 acuerdos comerciales, déjame seguir aquí, "venezolana… suscribió un acuerdo con la constructora argentina Impsa por el reacondicionamiento de turbinas de la central hidroeléctrica Guri… Impsa también firmó un acuerdo con la petrolera venezolana PDVSA relativo a la adquisición de celdas de alta tensión e interruptores para las subestaciones de la empresa", es decir, ya está metido también en los tentáculos, como se llama, de lo que es eléctricamente PDVSA. "PDVSA ya suscribió un convenio con Impsa por la fabricación de aerogeneradores que se emplearán en las instalaciones que la compañía estatal tiene en la península de Paraguaná." OK, ahora yo voy a hacer click en IMPSA, y allí aparece IMPSA, entonces me fui a la página de IMPSA, "La empresa de energía renovable Impsa es el mayor inversionista en generación eólica en Latinoamérica, con más de 1,1GW de capacidad instalada en Brasil, Uruguay y Argentina…" pero aparece en la pagina de IMPSA, independiente de Banamerica, en sus notas de prensa, estoy tratando de navegar, ahora espérate un segundo, aquí aparece noticias… Proyectos, Manuel Piar Tocoma, es posible, si están hablando de Guri, es posible que eso tenga que ver con, es que en Guri ellos no tienen nada que no pueda ser la unidad 1 a la 6, no puede haber, por que las unidades 7, 8 y 9 y 10 se la dieron a un consorcio brasileño de la Alstom, y las unidades que quedan en Guri II para ser como lead contractors es Andritz-Voith, de Austria-Alemania, aunque ellos están tratando de meterse como subcontratistas, entonces lo único que puede ser…"
P: ahí le mande otro link de un pdf…
"No pero para mi tiene que ser que ellos tuvieron, eso tuvo que ver con el tema de Guri, o sea, eso he visto…"
P: bueno si yo hago una búsqueda de Guri en el site de IMPSA hay tres resultados.
"Cuál es el resultado?"
P: le acabo de mandar dos, una en español ahora se la voy a mandar en inglés.

"Yo cuestiono la sabiduría técnica de designarle ese proyecto a IMPSA, dado su trayectoria, digamos. No offence and I understand everybody needs a chance, you know a fair chance. La hidráulica asociada con las unidades de la casa de máquinas I de Guri son demasiado complejas, por que esa fue una turbina que tiene que potencialmente trabajar en un altísimo rango de caídas, por que recordaras que Guri fue hecho en dos etapas, y la segunda etapa no fue simplemente poner más turbinas, sino que se subió la presa 52 metros, entonces por esos 52 metros adicionales se tuvo que diseñar un rotor o un rodete de turbina que pudiese trabajar por alrededor de unos, del 68 al 78 [1968-1978], o trabajaron así hasta el 83 [1983], cuando comenzó a subir el lago, es decir trabajaron todo ese tiempo con las cotas iniciales, el rango de cotas iniciales, y después les añadió 52 metros más, es decir los problemas de cavitación, tu tienes que tener allí un grande liga en esa vaina, y para mi estos no son unos grandes ligas, estos están todavía en una curva de aprendizaje, entonces es como que Venezuela pues queda como un conejillo de indias, y eso para mi no es lo que Venezuela tuvo. Venezuela tuvo éxito en el bajo Caroni por que tenia fuertes procesos de licitación, y de selección técnica, ahí te acabo de mandar un archivito, por ejemplo este es un proyecto de la Luis Zambrano, un proyecto convenido con la bendición de, allí esta metido Ramírez, y allí esta metido Ali Rodríguez Araque, eso es algo que si tu te pones a ver, primero de izquierda a derecha, los megavatios que tiene la planta Luis Zambrano como ciclo combinado, son 470, dos unidades en La Florida, 1250 Cape Canaveral, y 1277 Port Everglades, y cuáles son los costos de esos proyectos? Bueno el costo de la Luis Zambrano es 1.150 millones de dólares…"
P: cuando tiene menos de la mitad de la capacidad instalada…
"Exacto, entonces aparecen los costos de potencia instalada: 2.447, 979 y 720 dólares, entonces eso quiere decir, en promedio, que la planta de Port Everglades que es una planta a futuro que va a concluir su construcción en el 2016, pero la de Cape Canaveral está ya en servicio, desde este año, entonces tu vienes y dices "bueno la Luis Zambrano va a estar concluida según el gobierno el año que viene", el mensaje es muy sencillo , eso tiene Ali Rodríguez escrito por todos lados y el Sr, está cómodo y confortable en UNASUR, es un intocable al igual que lo es Ramírez…"
P: bueno todos ellos son intocables en realidad…
"Si, ahora mira, que te puedo decir, hoy saque una nota, hubo unos errores de la periodista, escribió unas cosas en bolívares y dólares, se confundió, Tocoma no lo mencionó, pero es el caso de que yo tengo pasivo contra los trabajadores de Venezuela, que se les debe 10.000 millones de Bs fuertes, que ya cuando los lleguen a cobrar la inflación se los habrá comido, y eso es como 1.587 millones de dólares al cambio oficial. Bueno habían dos proyectos Planta Centro 6 y la termoeléctrica del Palito, eso es todo Rafael Ramírez con los chinos, donde tu tienes allí el sobreprecio de esas instalaciones. Allí nada mas que tienes para pagar los pasivos laborales, y la cosa que yo le digo a la gente, al menos lo he dicho en entrevistas pero no creo que ha salido todavía publicado, es que el entorno que ha estado detrás de la asignación de estos contratos seguramente ya cobro en dólares, y en dólares, y los trabajadores eléctricos pues siguen esperando dinero de su sudor y trabajo en Bs y todavía no se les paga. Es decir, como para tratar de dramatizar un poco el ángulo humano social de esto, de un gobierno que dice llamarse altamente obrerista, altamente social, etc, y para mi es lógico asumir que la gente que tenia que cobrar en dólares, no joda ya cobro y cobro desde hace rato, por que si no la luz verde del proyecto no se da."
Slider Image: